PATIENT CASES & TESTIMONIES
DISCLAIMER: The above results disclosed are those witnessed in patients within the controlled treatment program. No specific results are guaranteed. Results vary from patient to patient. For Personal Data Protection Act, some patient's names are replaced by aliases.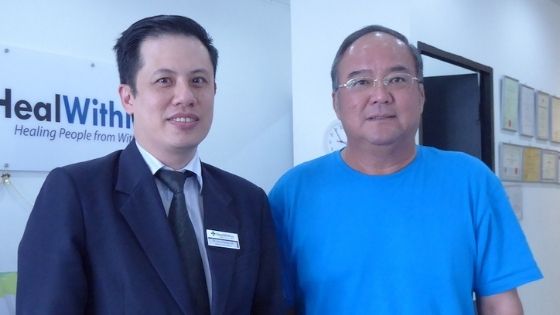 Heart disease, High cholesterol, High uric acid, Gallbladder stone, BPH, Allergic rhinitis, Liver disease, Osteoarthritis, Metabolic syndrome, Obesity
"Seek holistic healing, recurrence prevention, & optimal health. Heal Within® is truly a gateway to all these. I'm back to scuba diving."
Liver cancer, Liver cirrhosis, Gastritis, High blood pressure, Knee inflammation, Muscle inflammation, Abdominal pain, Back pain, Joint pain, Leg cramps, Scalp itchiness, Low energy
"I was given 3-4 months to live, but here I am not just living, but living free of caner and most of my other diseases are resolved too."
Arokiamary Soosay, Malaysia.
Diabetes type 2, High blood pressure, Insomnia, Fibromyalgia, Vaginal infection, Chronic fatigue syndrome, Hypothyroidism, Irritable bowel syndrome
"My condition was so bad that my children were getting ready for me to die. But thanks to Heal Within® I'm healed and fully alive.
"I had heart disease, high bp, high cholesterol, high uric acid, fatty liver, low testosterone, tinnitus, hypothyroid; add to that I had a big package of medications and surgeries; and my health was just deteriorating and I learnt that these typical conventional treatments don't really work. I started looking for alternatives and found Heal Within®. When I met Dr Lee he took me through some tests, analysed my condition, and very patiently explained to me that my ailments were not resolved because their root causes were still present in my body; some of them being heavy metal toxicity, low nutrition status, hormonal imbalance, epigenetic dysfunction and a few others; and consuming medications won't help treat those root causes, and that I needed an integrated treatment approach to deal with them. This was very enlightening. I then went through Dr Lee's integrated & holistic treatment which resolved my heart disease over 85%, resolved my cholesterol, high bp, uric acid & other problems, and reduced my medications to minimal. I now know what holistic healing really means, and I love it. Thank you Dr Lee."

Diabetes, High cholesterol, Chronic inflammation, Chronic tiredness, Daytime drowsiness, Mood swings, Mental fogginess, Night urination
"Heal Within® treatment brought back my health to more than expected. My only regret – why did I not find them 20 years ago?"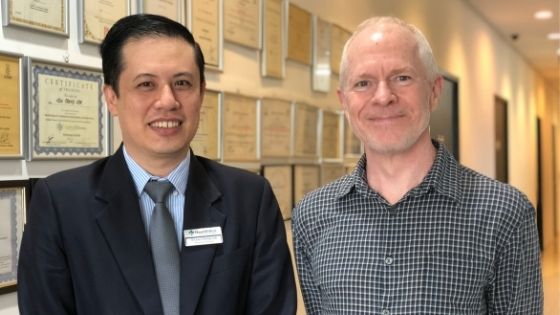 Frozen shoulder, Allergic rhinitis, Benign prostate hyperplasia, Subclinical hypothyroidism, Gallbladder pollips, Receding gums, Scoliosis, Chronic fatigue
"When I walked into Heal Within® I felt like a 90-year-old; a few months after treatment I walked out I feeling like a 40-year-old."
High blood pressure, Diabetes, Fatty liver, PCOS, Fibromyalgia, Insomnia, Sub-clinical hypothyroidism, Pre-menstrual syndrome, Metabolic syndrome
"13 years with high BP & its medications; then just 4 months with Heal Within® and blood pressure normalised & its medications out!"
"I had gallbladder cancer together with chronic asthma and other diseases. I know that typical hospital treatments give little to no healing results. When I met Dr Lee he took me through some tests and then very patiently explained to me that I never got well from my past diseases and eventually got cancer simply because the root causes to all those were not treated and that medications don't treat those root causes, and he also told me that I needed a combination of multiple therapies to deal with all root causes. This is very logical and makes total sense. Long story short, I went through the integrated & holistic treatment in Heal Within®, after which I am not only fully recovered from cancer, but my asthma and most other ailments I had many years are also totally resolved. I am overwhelmed with joy & gratitude."

Eczema, Chronic fatigue, Hyperthyroidism, Indigestion, Muscle spasm, Leaky gut, Right constochondritis, Osteoarthritis, Liver inflammation
"Dr Lee does not just treat diseases, he restores your whole body back to good health, and that's holistic healing. Thank you Dr Lee."
Insomnia, Anxiety disorder, Chronic fatigue, Gut dysbiosis, Atrophic viginitis, Post traumatic stress disorder, Urinary tract infection, Subclinical hypothyroidism
"Since the start of the treatment in Heal Within®, all I experienced is positive results; I bid farewell to both – my diseases & my meds."
High blood pressure, High cholesterol, Fatty Liver, Skin infections & allergies, Fibromyalgia, Insomnia, Obesity, Sympathetic overdrive, Migraines
"Restored health and no medication is what I wanted; I came to Heal Within® and Dr Lee helped me get what I wanted. Very happy."
"I had diabetes and high cholesterol, and wasted 20 long years going from one doctor to the other, and all of them just kept feeding me more medications and said that I needed them life-long. Then somehow I found Heal Within® and met Dr Lee who was the first doctor to tell me that my medications could be weaned off in a matter of time. He took me through some tests and found the root causes to my conditions, and then administered a set of therapies to treat those root causes. After treatment my medical test reports are like an A+ in my exams - diabetes is very well controlled & its medications reduced to minimal, high cholesterol solved 70%, energy levels are high, mind clear & emotions stable, no more coffee cravings, skin glows and I look younger. My only regret is this - why did I not find Heal Within® 20 years ago."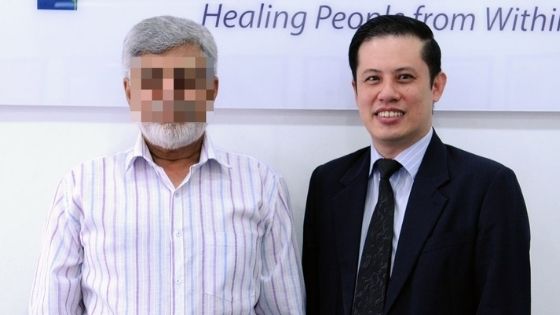 Ufair Rashid*, Mauritius.
Heart disease, High blood pressure, High cholesterol, Hypothyroidism, Fatty liver, High uric acid, Fibromyalgia, Low testosterone, Tinnitus
"Within my first consultation with Dr Lee I found hope for total recovery, and within two months of treatment my hope was realised."
Colon cancer, Low blood pressure, Abnormal weight loss, Abdominal bloating & pain, Indigestion, Backache, Cold hands & feet, Lethargy & Low Energy, Anxiety & stress
"My cancer is history, all other conditions solved too, I experienced no recurrence and no cancer cells activity. I am very satisfied."
Typhus fever, Liver inflammation, Persistent high fever, Diarrhoea, Lethargy, Head aches, Body aches, Dizziness, Bloating, Abnormal Sweating
"Medical clinics, medical centres, big hospitals – none could help; I came to Heal Within® and within just one month I was totally well."
"I had high blood pressure and consumed medications 13 years. Over time I also developed fatty liver, PCOS, insomnia, and diabetes, and was experiencing many ill-symptoms. When I went to Heal Within®, Dr Lee took me through some medical tests from which he discovered & explained to me the root causes to my conditions, which were - lack of nutrients, gut disbiosys, acidic blood & poor circulation, low thyroid hormone level, mitochondrial dysfunction, and a few others - something that no previous doctor tole me. Dr Lee then administered to me a combination of therapies to treat those root causes. Within just 4 months into my treatment my high blood pressure was totally resolved and medications totally weaned off. Wow! Diabetes is very well controlled and its medication reduced to minimal, PCOS and most of my other conditions are resolved to over 85%, I feel energetic, get good sleep, and filled with joy."